WELCOME TO THE SHOHOLA MUSEUM OF COMMUNICATIONS AND TECHNOLOGY.
A special greeting to readers of "Radio World" magazine, we are pleased you are visiting our pages.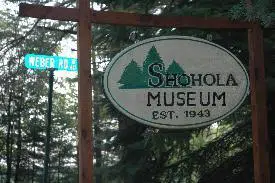 Shohola Museum of Communications and Technology.The Shohola CommTech Museum is an operating collection of antique and vintage communication electronic equipment. We are open by appointment only on Tuesday and Saturday afternoons or Wednesday evenings, during the summer. The facility is used for classes at all other times and access to the equipment would interfere with instruction. All visitors will have an opportunity to experience a hands-on operation of our equipment collection and receive a printed certificate of completion at the end of the visit. Group tours will last approximately one hour. Please e-mail museum@shohola.org to schedule your reservation and receive directions. We are family friendly, and especially enjoy demonstrating our collection to young people. Wheel chair access is possible but difficult. Please let us know of any special needs. Admission is by donation.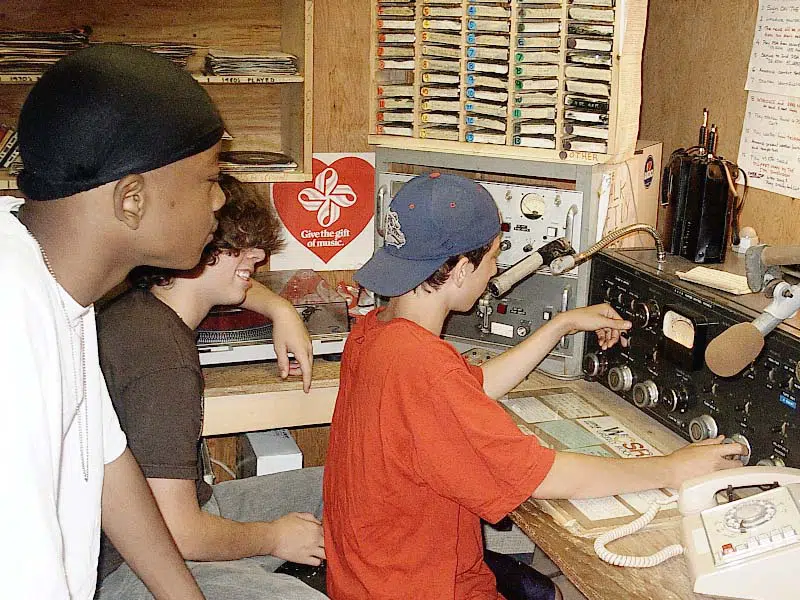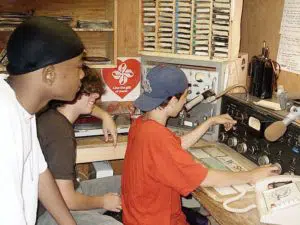 Our AM radio station features a 1936 Collins, model 12H, broadcast console. It is recognized by broadcast equipment collectors around the world as the "oldest operating broadcast console" and is one of the first production broadcast consoles ever designed. Constructed by Art Collins and Arlo Goodyear just after he formed the Collins Radio Inc., it was called a "Speech Input Assembly". In use at Shohola since 1972, it was purchased new by WORK, 1350AM, in York, PA, the first station in York County. Our AM station also contains two vintage 1950's Spotmaster cart machines, two turntables, two microphones, an open reel tape recorder, and a PC based audio editing system. The studio microphone is supported by a 1950's RCA vintage boom mic stand from WSBA TV 43, the first and oldest UHF television station in the world. Your voice can can go through the same console that passed the voices of Churchill, Roosevelt, Truman, Eisenhower and hundreds of other famous politicians and entertainers. Thousands of boys have learned to operate a broadcast console at Shohola.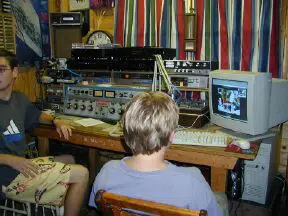 Our FM radio station features a QRK 8S stereo broadcast console. It is one of the first stereo broadcast console ever designed and was used at WSBA FM 103.3, the first FM station in York and one of the first in the country. The control room also contains 2 broadcast cart machines, 2 Minidisc recorders, 2 turntables, 2 CD players, 2 cassette recorders, 2 microphones, an open reel recorder, and two PC based audio editing systems connected to the Internet.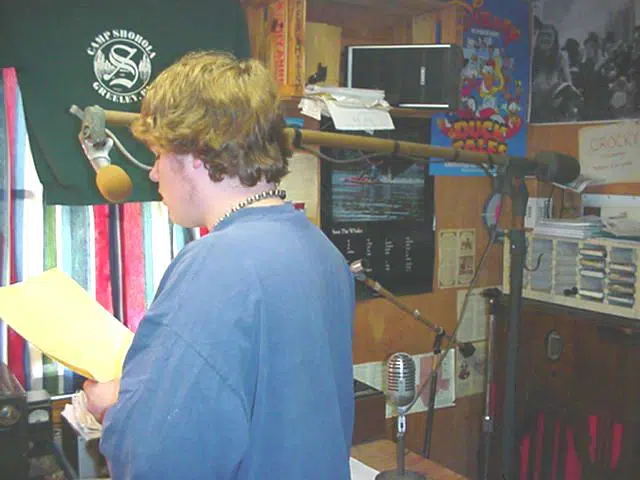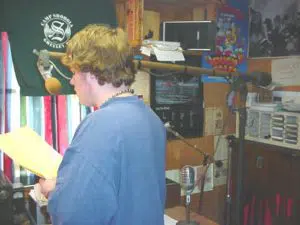 Your will have the opportunity to learn how to announce and manage a radio DJ programs, take telephone requests, and read the news, sports and weather. Please visit the WCSR web page for more information and a broadcast schedule. The Camp Shohola telephone system is connected to the broadcast consoles, allowing talk-in and discussion programs. We also broadcast live over the Internet allowing parents, friends and relatives to listen. If you would like to broadcast your voice around the world during your visit, tell your friends when you will be visiting the Shohola Museum and ask them to listen in. Links for the broadcast web streams are on the WCSR web page.
Broadcast Journalism and News Preparation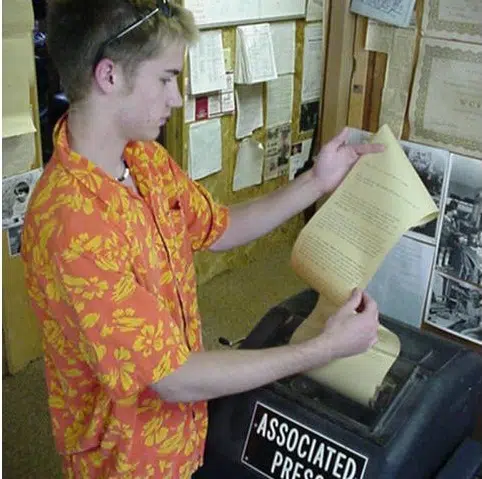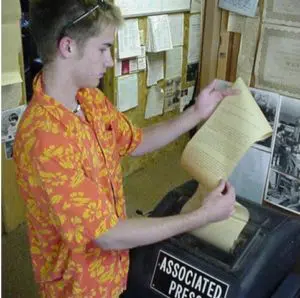 Learn how a typical news broadcast was prepared in many stations. Prepare you newscast from a variety of sources including copy from our 1938 Associated Press wire printer. You may even take home the wire copy after reading your news broadcast on the air. We are the only operating radio station still using a model 15 Teletype news printer in the United States.
Live Radio Drama and Acting
Before the days of television, almost all radio programs were live dramatic productions or live music. Read actual radio copy of "Sorry Wrong Number", a 1948 radio drama, bring your own script, or choose from our original productions. Be sure to wait for the sound effect before you read your next line. Or you can bring your own musical instrument with you and perform live to the world just like the broadcasts of 75 years ago. Be sure to let you family and friends know when you will be visiting so they can listen live on the Internet. Please visit the WCSR web page to listen to some of our radio dramatic productions. Camp Shohola is the only summer camp with instruction in the live broadcasting of radio drama.
Telephone Equipment
1896 Wall Telephone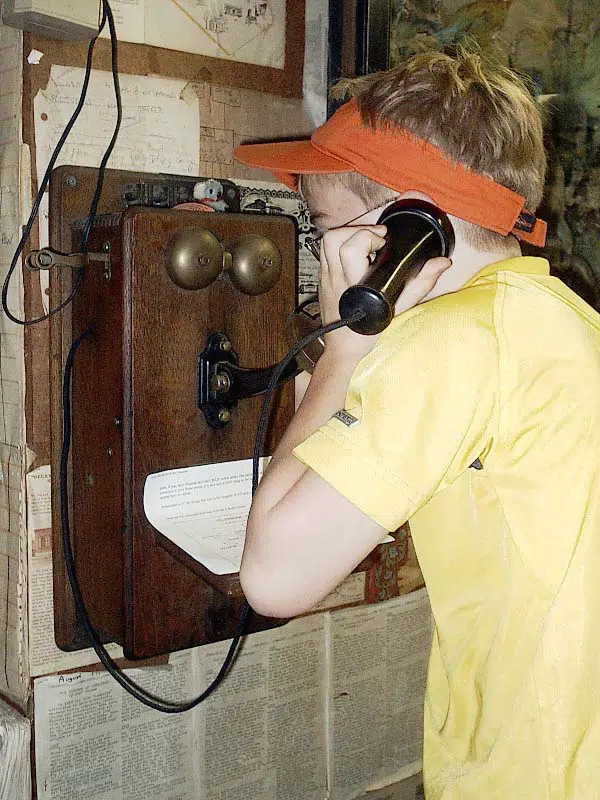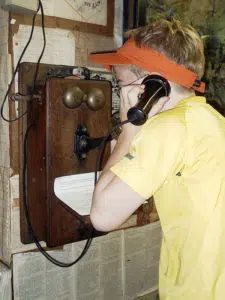 Before the days of "touch tone" and dial telephones, an operator had to complete all telephone calls. Turn the crank on the side of our 1896 Stromberg Carlson wall telephone and ask the operator to complete your call. Hear the bells ring as you generate electricity by hand power. Is the phone "off the hook"? Now you know what a hook switch is. There is even a phone stool for the youngsters to reach the transmitter.
Operate a Genuine WW II United States Army field telephone set.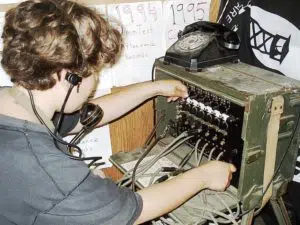 Have you seen Radar O'Riley or Klinger operate a field telephone on the popular television series "MASH"? Here is your chance to talk with a friend on the same type of phone system. This is an actual U. S. Army field telephone used in World War II on the Pacific Islands, and again in Korea ten years later. It has been in our museum for more than thirty years and is fully operational with connector plugs, key levers and the original operator headset.
Strowger, step by step automatic telephone exchange.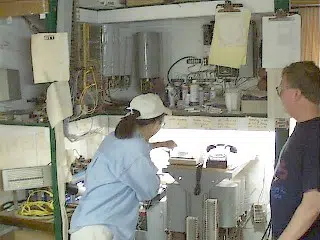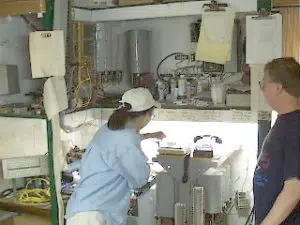 Would you like to be a telephone operator? What is it like to manually connect calls during a radio station call in program? Can you connect local calls without disconnecting a long distance call? Why could you sometimes hear conversations on your line? How were telephone calls automatically connected 100 years ago? Who was Almond P. Strowger, and what did a mortician have to do with the automatic telephone exchange? You can find out the answers to these questions and much more at the Shohola Museum. We have the only Strowger telephone exchange still in daily use, with more than 100 telephones connected to our antique step by step automatic exchange. Answer the telephone as an operator. Watch the relays and wipers move, and connect your call as you dial, and hear how much telephone communication has improved in the last 100 years. The single Strowger switch above Jane's head is an original Strowger connector manufactured in 1909. It is the oldest operating step by step switch in the world. It was constructed before the automatic system was able to recognize a call in progress and would connect a caller as a third party on an existing conversation. A few years later AT&T and Automatic Electric engineers created the "G" relay to recognize a call in progress, and return the familiar interrupted dial tone, or as we know it today, the "busy signal".
Technical Activities
Electronics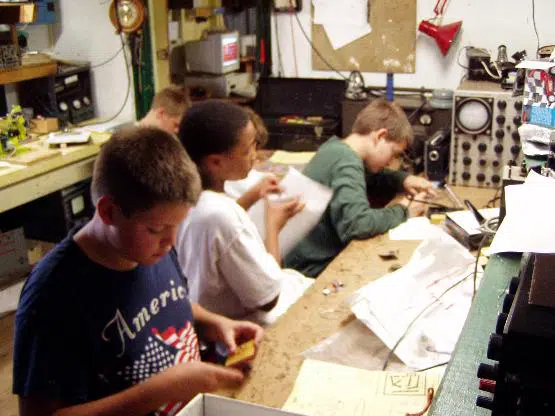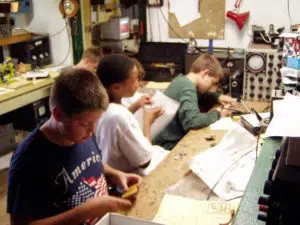 What is an oscilloscope, a volt meter, power supply, RF signal or audio tone generator? You can see your voice print on our fifty year old oscilloscope in our electronics room. We have many electronic experiments to amaze and mystify the kids. The boys in the camp program learn how to identify electronic components, solder parts on printed circuit boards, read schematics,`and understand how electronic parts interact. Campers in the advanced classes design electronic circuits and printed circuit boards, and trouble-shoot and repair down to the component level. We use computer programs, solderless prototype circuit boards, and hands on instruction to teach electronic part interaction. We teach both analog and digital circuit design. Some campers have designed and constructed electronic computers from spare parts.
Robotics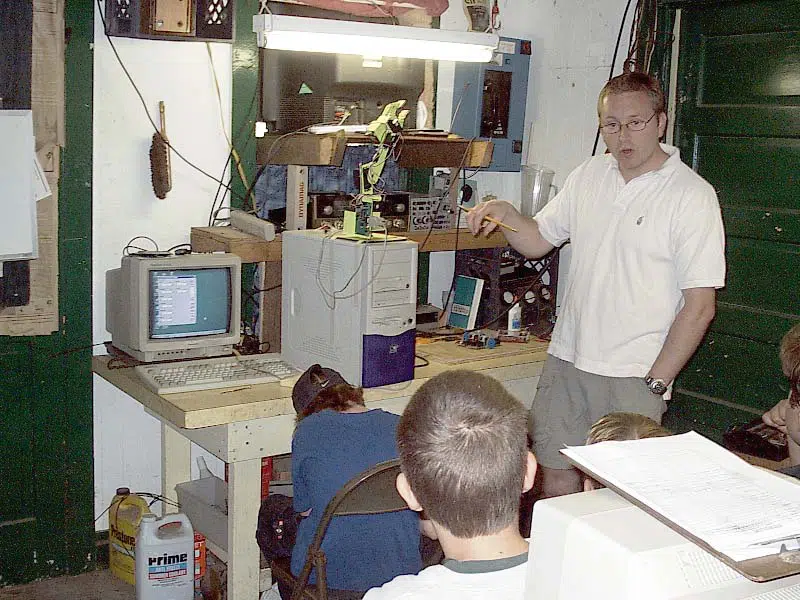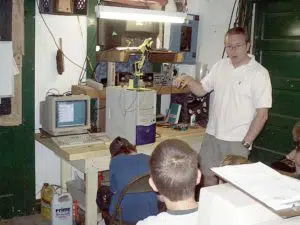 Using the the latest computerized programs, boys in the robotics class learn the operation of robotics arms, programmable buggies, and a variety of fighting style robots. Many of the boys build their own robots from a varied selection of available kits.
Radio and Television Engineering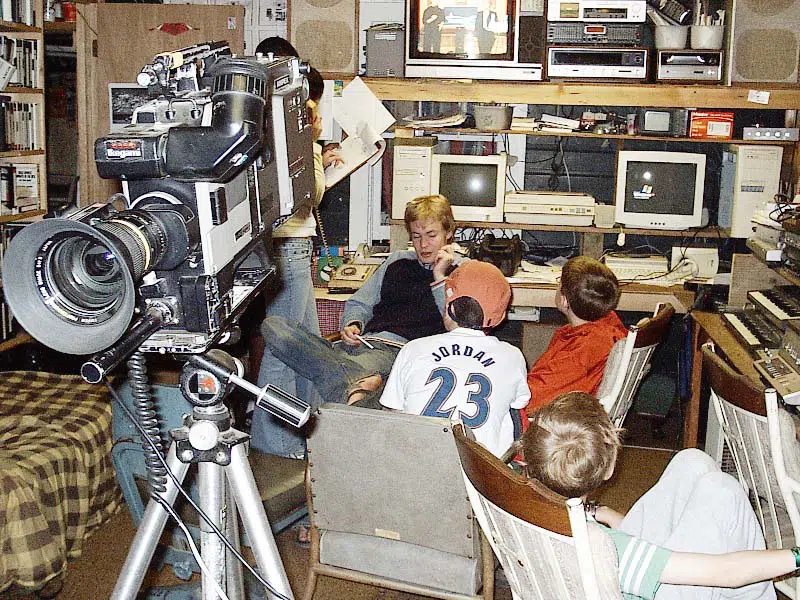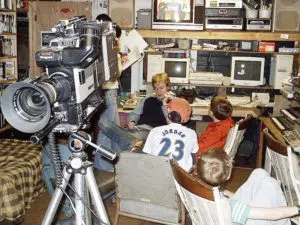 The Shohola television studio. How were television programs recorded forty years ago? How does the picture get from the camera to your television set? You can learn how in our television studio. What is an L cut, or a wipe? You can learn these video editing terms as you operate our twenty five year old Sony, BETA 1, video editing system, A real BETACAM (pictured) camera and a variety of video related equipment. Thanks to John Sterling, Chief Engineer of WPMT Fox 43 in York, PA, Camp Shohola was the first summer camp in the country to teach video recording and editing. We still have copies of our first B&W programs, produced in 1975, and our first Sony color camera from 1977. We also have new digital cameras to compliment our modern computer based digital edition systems. Everything still works. The TV studio is also used for our music program and drama classes, and contains a small library of 1000 books relating to communications and technology.
Telecommunications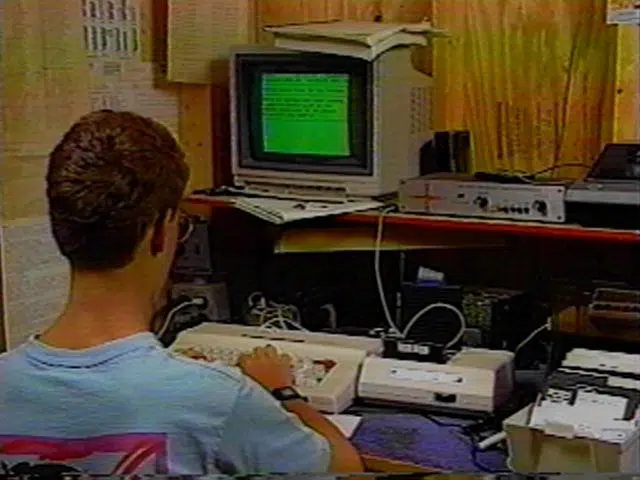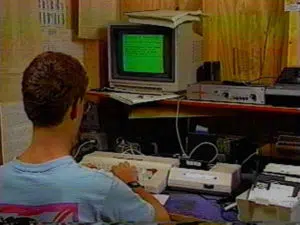 In Telecommunications, campers learn the operation of audio, video and digital communication devices. We use short-wave radios to receive different types of digital communications, such as shortwave radio, weather fax photographs, and news wire services. Basic instruction in land-line, fiber optics, microwave and satellite telephone service is observed from our own antique Strowger telephone switching system to modern electronic digital networking.
Leisure Time Activities
Amateur " HAM" Radio (WB3DGR)
The Camp Shohola Amateur Radio Club gives campers with a chance to talk to other short-wave radio enthusiasts all over the world. Campers starting in the program learn Morse code and beginner radio theory using the latest techniques and professional videotape instruction. Students successfully completing the course are prepared to receive their own amateur radio license. WB3DGR is the first and oldest amateur radio club licensed to a summer camp in the U.S.A.
Music
Our music program allows campers a chance to practice and improve skills and develop an appreciation for a variety of music styles. We teach writing skills using MIDI computer based programs and we have four electronic keyboards for campers to practice.
What else is here?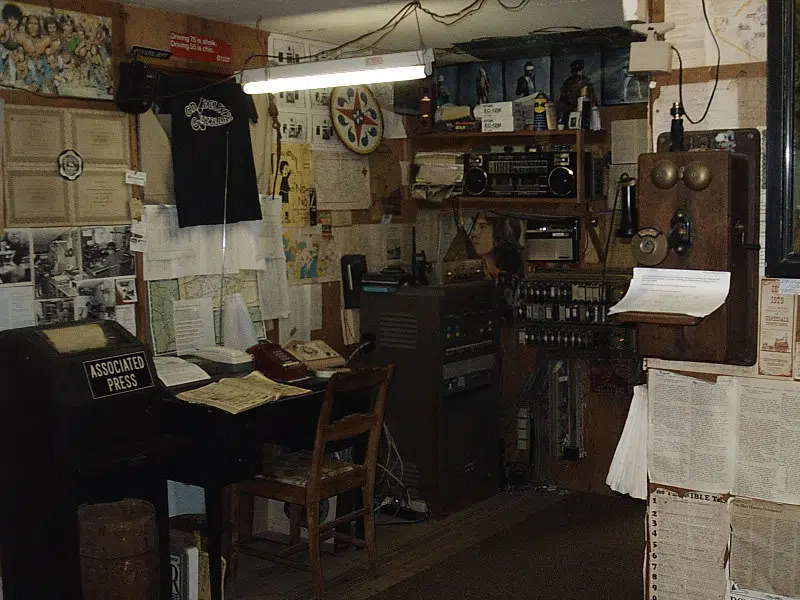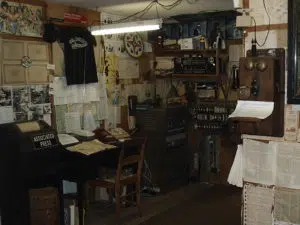 There is much more at the Shohola Museum of Communications and Technology. The collection includes a variety of broadcast audio processing equipment, including a 1950's Limpander compressor. We have more than 300 old telephones with related central office switching equipment including a Western Electric A1A electronic key system. The key system and the manual telephone switching system are pictured.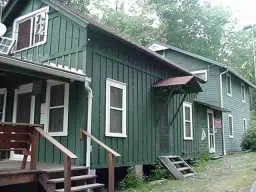 We also have on display a Western Union, synchronized, self winding,The original part of the building was constructed in 1879. television control room clock from WSBA TV 43, among our clock collection. We also display artifacts from the 1829 to 1898 Gravity Railroads of northeastern Pennsylvania and a 1945 Gestetner stencil printer. Constructed in 1879 as the company store of the Greeley Lumber Company, the building itself is historic, being the oldest building in Greeley.
Every summer the CommTech staff take interested campers to visit local technological and historical places. We have visited local gravity railroads, telephone companies, Pinchot Estates, The Sylvania Association. We also explore the Greeley Lumber Company, area museums, and the D&H Canal, the nations first million dollar private enterprise. Campers visit the Pike and Wayne County Historical Museums, and see the AT&T Long Lines Satellite Earth Station in Kimbles.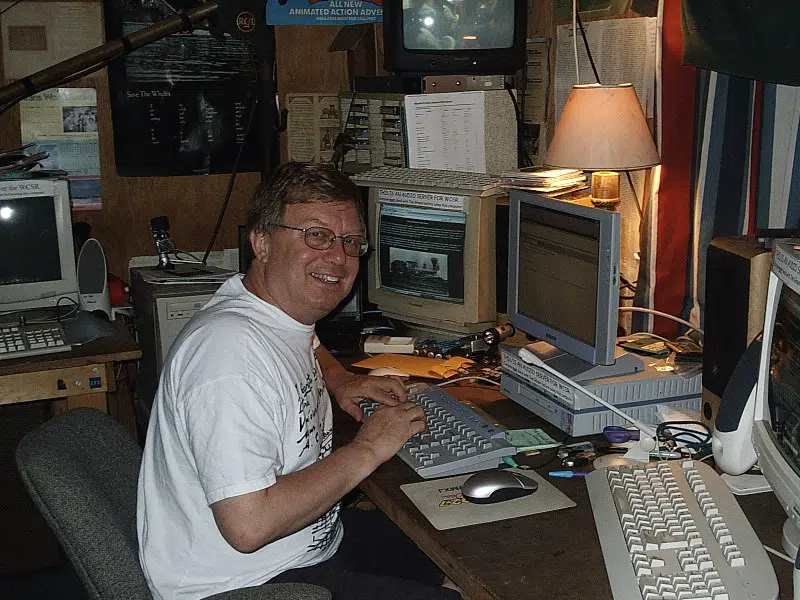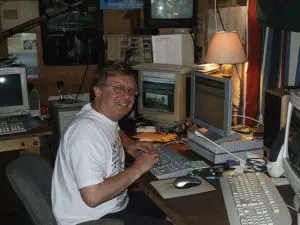 Professor Thomas Knowlton Gibson, founder and curator of the Shohola Museum, is a fifty year veteran of Camp Shohola. He is Vice President and Director of Engineering of the Intercollegiate Broadcasting System, representing more than 1000 College and University radio stations throughout the world. Tom is a long time member of the Society of Broadcast Engineers and past officer of the Central Pennsylvania Chapter #41. He has worked at every radio station in York County, PA. including WINB, the one million watt shortwave radio station in Red Lion, and is the faculty advisor and supervisor of WVYC FM 99.7 at York College. He also manages the York College Telecommunications Department and has been teaching broadcasting classes at York College of Pennsylvania for more than 35 years. Tom is also a decorated Viet Nam War Veteran and a lifetime member of the VFW.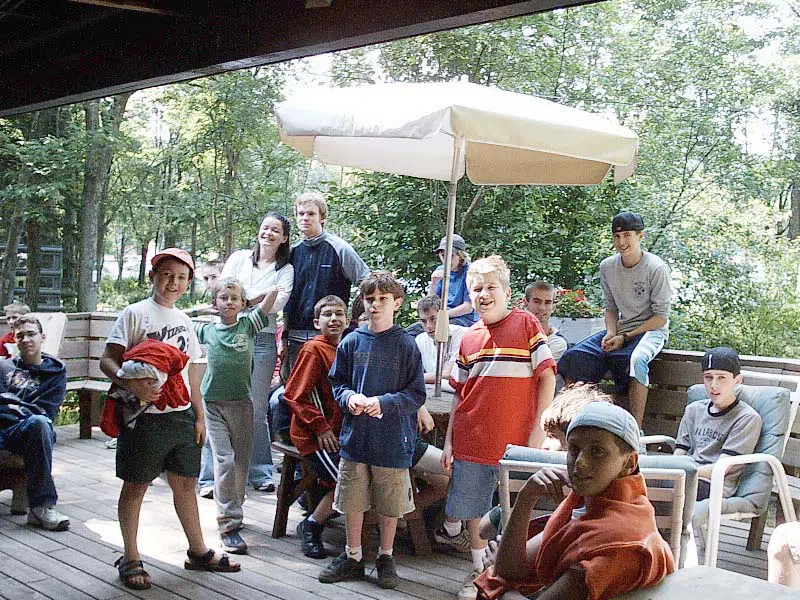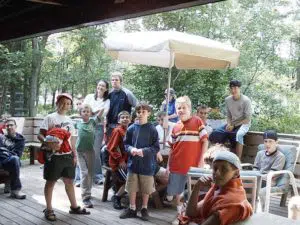 His genealogy goes back to the colonial days with many ancestors in the telecommunications field. His grandfather Joseph Whitton Gibson was a statistician and design engineer for AT&T and Bell Labs. His other grandfather, Frank Watson Knowlton, descended from the family of the famous Thomas A. Watson, trusted assistant and partner of Alexander Graham Bell. He was the person who received the first telephone message "Mr. Watson, come here, I want to see you," spoken by Bell on the morning of March 10, 1876. Frank W. Knowlton was also a supervisor working for Bell Telephone in Albany, N.Y. He assisted with the adaptation of the Strowger switching systems of the day (1918-1924) by adding the "G" relay, which recognized a line in use and returned the familiar busy tone. Tom started the Camp Shohola Communications and Technology Program in 1972 with activities in Radio Broadcasting, Electronics and Amateur Radio. Last summer (2006), there were 17 counselors from around the world teaching various activities in the CommTech building. Obviously, your group won't be able to do everything in one hour. Pick your area of interest and we will put together a personal tour you will not forget.