THE HISTORY OF THE ERIE RAILROAD "SHOHOLA CABOOSE" #4259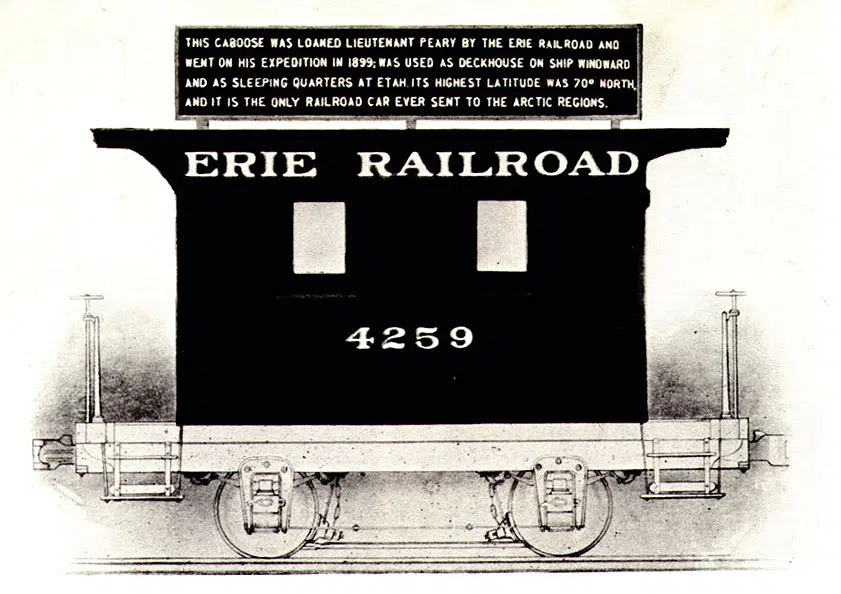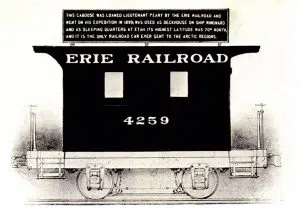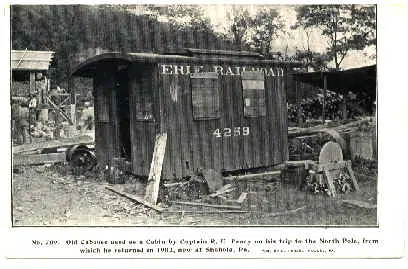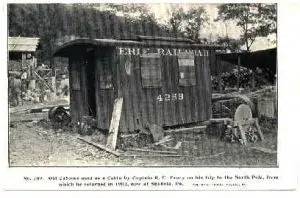 In 1892 the Erie Railroad built a small four wheel caboose numbered 4259 for use on short runs. The increase in freight tonnage made this style of caboose obsolete and after six years of service, following a crash that lifted it off its wheels, Erie Caboose #4259 was left in the Susquehanna, Pennsylvannia railroad yard where it was used as a foreman's office in the sawmill section where ties were cut. While visiting a friend in that area, Captain Robert E. Peary saw the solidly constructed caboose and asked the Erie Railroad if he could use it on his upcoming voyage to the North Pole.
Seeing the potentially much needed positive publicity of the loan, the little caboose, minus it's wheels was loaded on a freight car and shipped to New York City. On July 4, 1898, in a well publicized and attended ceremony, it was hoisted onto the deck of Perry's Steamship 'Windward' where the caboose served as a deckhouse and headquarters for Captain Peary while on the ship.
In August of 1899, Perry set up a base camp in Etah, Greenland. With the help of local Eskimos, he struggled to get the little caboose ashore and secure it with heavy ropes staked into the ground. Boxes of provisions all the same size were stacked around the caboose to form a six foot high wall two feet away from the caboose. Canvas was then spread from the top of the caboose roof to the top of the wall and secured with heavy stones. With snow heaped against the wall and over the canvas, it provided an igloo like structure that was warm and protected from the winter. The caboose was heated by a coal stove and lighted with oil lamps.
In 1902 upon his return from the Artic, the Shohola Caboose was returned to the Erie Railroad and refurbished in the Buffalo N. Y. railroad shops. At the request of John Kilgor, the Erie Railroad displayed the caboose at the Shohola Glen Amusement Park in Shohola, Pennsylvania until 1907 for publicity purposes. It was decorated with sceenes of the Artic and was a popular attraction at the park. With the closing of the park in 1907, it then made a successful tour of the entire Erie Railroad System and was finally displayed (minus it's wheels again) at Susquehanna, Pennsylvannia where it was constructed. Unfortunately, The Shohola Caboose was destroyed in a fire in 1940.