WELCOME TO THE CAMP SHOHOLA COMMUNICATIONS AND TECHNOLOGY PROGRAM
The fun and intellectually stimulating activities in the Camp Shohola Communications and Technology program are unique, in that they offer campers a chance to gain skills that can provide life long enjoyment and are not available in a typical summer camp.
Communication Skills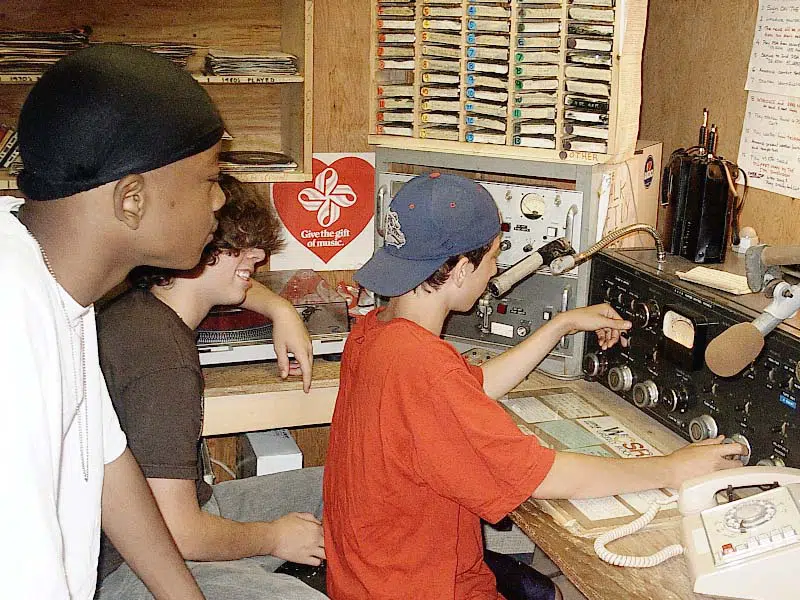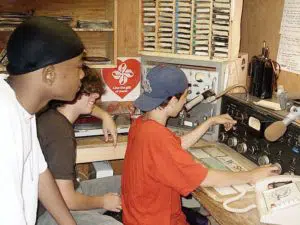 In radio broadcasting classes, campers learn how to announce and manage their own radio disc jockey programs. WCSR AM and FM allow all interested campers, from beginners to experienced broadcasters, a chance to improve skills and entertain friends. Beginners are taught basic play-by-play sportscasting skills, news writing and delivery, weather reporting, and computer editing production skills. More experienced announcers learn on-air telephone procedures and advanced studio and audio production techniques. Please visit the WCSR web page for more information, a broadcast schedule and links to the Internet broadcast. The Camp Shohola telephone system is connected to the broadcast console allowing talk-in and discussion programs. We also broadcast live over the Internet allowing parents, friends and relatives to listen from all over the world.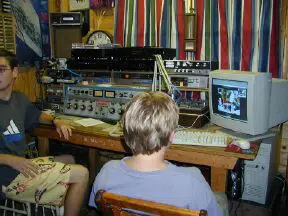 Our FM stereo radio station features a QRK 8S stereo console from WSBA FM 103.3, their first stereo console. The control room also contains 2 broadcast cart machines, 2 Minidisc recorders, 2 turntables, 2 CD players, 2 cassette recorders, 2 microphones, an open reel recorder, and a PC based audio editing system. Our AM control room features a 1936, Collins model 12H broadcast console, recognized by broadcast equipment collectors around the world as the "oldest operating broadcast console". It was first used by WORK 1350AM, in York, PA., the first station in York County. Our AM station also contains two vintage 1950 spotmaster cart machines, two turntables, two microphones, an open reel tape recorder, and a PC based audio editing system. The studio microphone is supported by a 1950's RCA vintage boom mic stand from WSBA TV 43, the first and oldest UHF television station in the world.
Play-by-play Sportscasting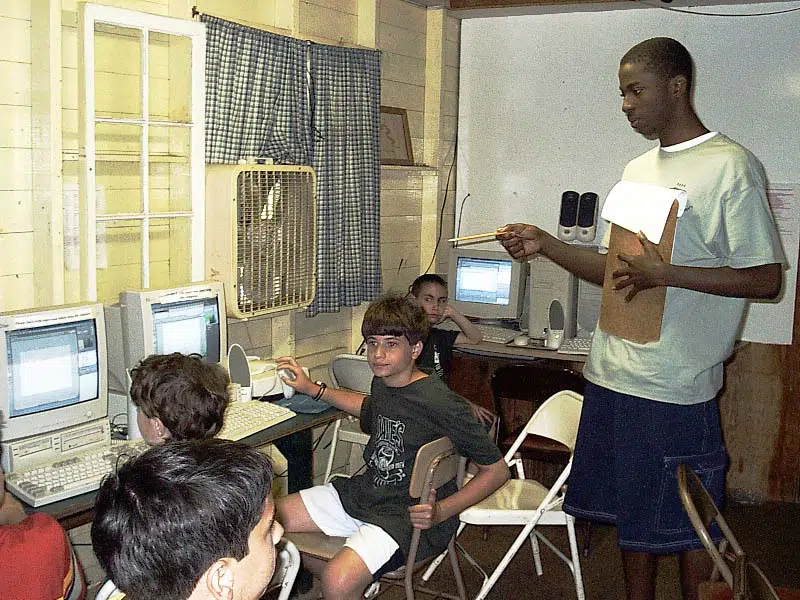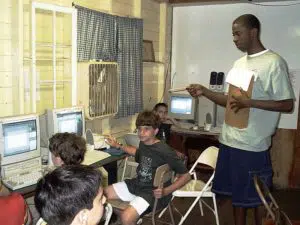 Boys in the Sports Broadcasting class learn the basics of live play-by-play broadcasting using our wireless and direct line remote broadcasting equipment. Announcers learn how to interact with each other, "send it back to the studio", and present an active and visual description of the game. We routinely announce basketball, hockey and soccer games, and have also announced tennis, ping pong, aquatic contests, and the "Eco Challenge" and "Apache" races. We have even broadcast live play-by-play action from the Pocono Inter-camp Chess Tournament.
Journalism and Word Processing
Our computer room features nine on-line high speed access computers. Camp Shohola produces two issues of the Camp Shohola newspaper the "ARGUS" every summer. The "Argus" has been in continuous production since 1940, and is the oldest summer camp newspaper in the Pocono Mountains. Campers learn the basic aspects of interviewing, writing, editing and production to improve journalism skills. You can read our newspaper on-line from the home page.
Web Page Design and HTML
Boys start off learning HTML basics, and advance to creating their own web pages using the latest web page production programs. Advanced classes learn Java script, PHP, and similar script writing programs.
Speech, Argument and Debate
Our speech and debate class is called Word War III. Boys learn the basics of public speaking and argument. Open debate on many popular topics may be held during the summer.
Communication
Do you find it hard to be understood or to understand others? In communication class you will learn self awareness, non-verbal codes and how to relate with others.
Artistic Development
Photography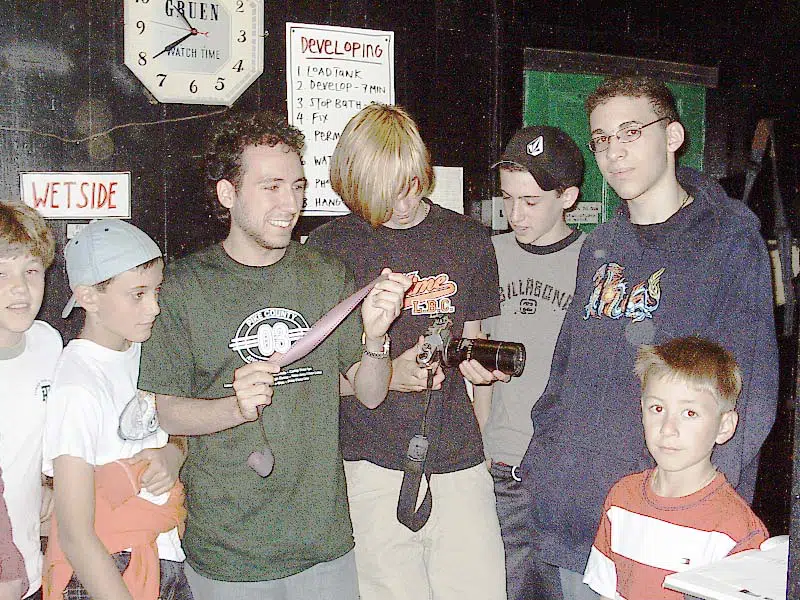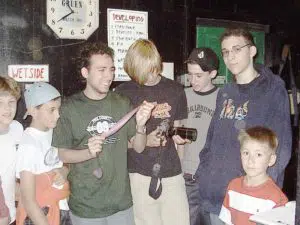 Our photography program teaches camera operation, picture composition, film and print developing, enlarging and other darkroom skills. Experienced photographers learn additional artistic skills such as dodging, and multiple exposure printing.
Radio Production
The boys in radio production classes learn how to produce Commercials, Public Service Announcements, Promotional tags and Station ID's. We use basic editing techniques and the latest computerized audio editing programs.
Television Production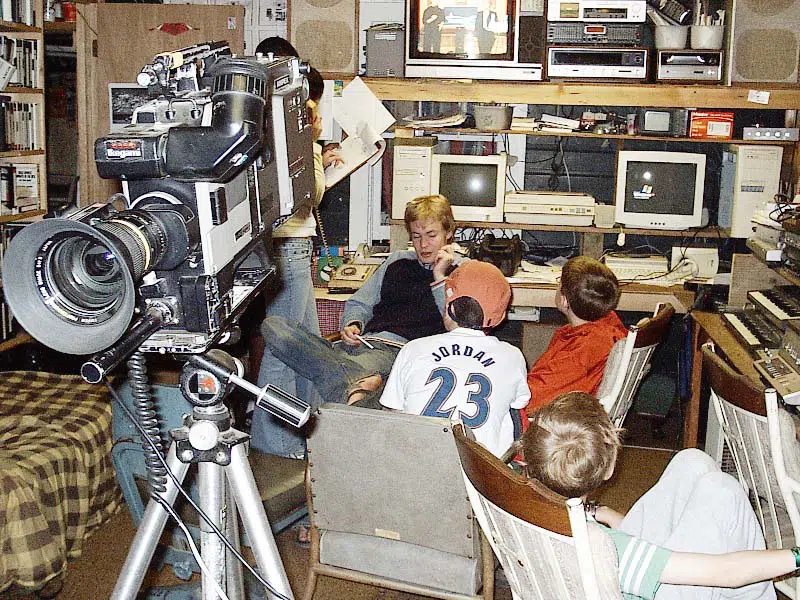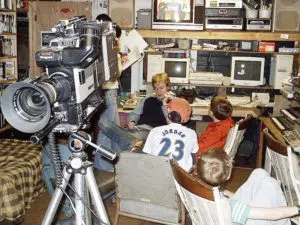 Our television studio features three tripod studio camera and four remote cameras.Television Production Our television teaches the operation of modern audio and videotape recorders and cameras. Using basic video editing and dubbing techniques, we write and produce commercials, public service announcements, newscasts, interviews and music videos. The boys also learn advanced computer editing skills using the latest computer video editing programs. Our television program is a hands-on instructional activity. Please watch "Ponderous", a music video producted in the 1991's starring Tim Wilson, Tony Nunes and Tom Gibson.
Radio Drama and Acting
Interested campers learn how to produce, direct and perform radio or stage dramatic programs. We have produced many of our own dramatic programs, and recorded old favorites. Please visit the WCSR web page to listen to some of our radio dramatic productions. Camp Shohola is the only summer camp in the world with instruction in radio drama.
Music
Our music program allows campers a chance to practice, improve skills, and develop an appreciation for a variety of music styles. We teach writing skills using MIDI computer based programs and have four electronic keyboards for campers to practice with. Boys are welcome to perform at the annual talent show each summer if they wish.
Technical Activities
Electronics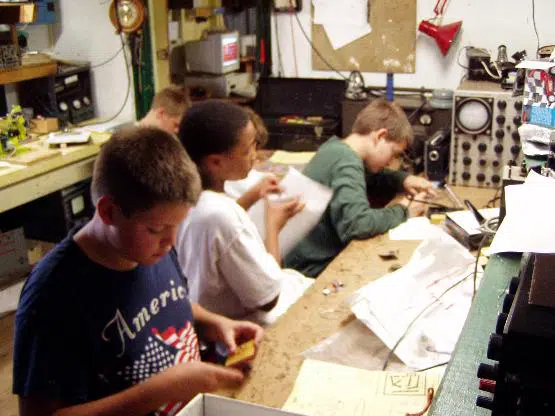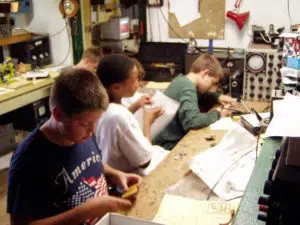 Beginners in electronics classes learn the function of various components, parts identification, and basic soldering techniques. They put this knowledge to practical use building a variety of electronic kits of their selection. In addition, boys in the advanced classes learn the basics of circuit design and make their own printed circuit boards.
Robotics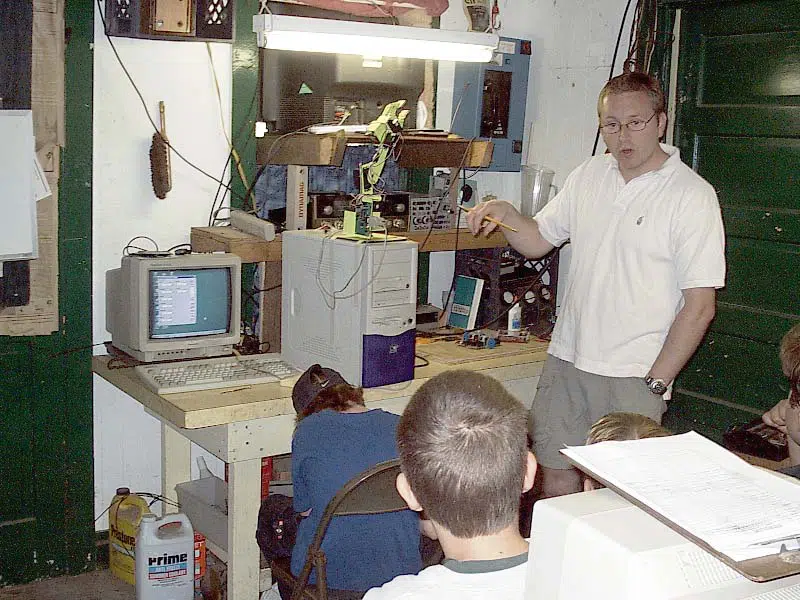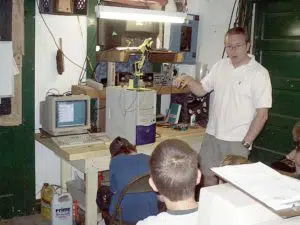 Using the the latest computerized programs, those in the robotics classes learn the operation of robotics arms, programmable buggies and a variety of fighting style robots. Many of the boys build their own robots from a varied selection of available kits.
Computer Programming
In computer programming, beginners develop proficiency with personal computers in a variety of languages. Experienced campers learn design skills producing computer art and advance data processing language aptitudes such as C++ and PASCAL. We teach basic operating system procedures, and the construction of computers.
Radio and Television Engineering
Campers in the radio and television engineering classes learn the technical aspects of electronic communication, including the operation of microphones, tape recorders, mixers and transmission equipment.
Astronomy, Meteorology and Science
Students learn how to operate telescopes in the viewing of astronomical bodies and other equipment in the observation of scientific phenomena. Weather permitting, we sleep out on a star watch and observe the Persieds Meteor Shower in mid August. Observation and prediction of weather changes is included in this activity.
Telecommunications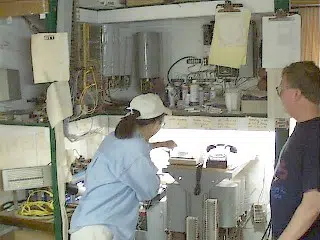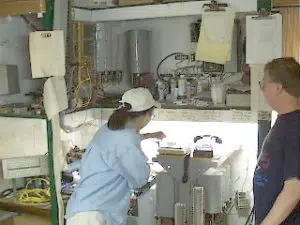 In Telecommunications, campers learn the operation of audio, video and digital communication devices. We use short-wave radios to receive different types of digital communications, such as weather fax computer photographs and news wire services. Basic instruction in land-line, fiber optics, microwave and satellite telephone service is observed from our own antique Strowger telephone switching system, to modern electronic digital networking.
Camp Shohola is the only summer camp in the world with a fully operational Strowger Telephone Switching System. There are more than 100 telephones throughout Camp.
Graphic Design
Using the latest computer graphic design programs, campers modify photographs and create their own masterpieces. Pictures can be printed or posted on personal web pages.
Leisure Time Activities
Amateur " HAM" Radio (WB3DGR)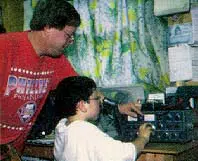 The Camp Shohola Amateur Radio Club provides campers with a chance to talk to other short-wave radio enthusiasts all over the world. Campers starting in the program learn Morse code and beginner radio theory, using the latest techniques and professional videotape instruction. Students successfully completing the course are prepared to receive their own amateur radio license. WB3DGR is the first and oldest amateur radio club licensed to a summer camp in the U.S.A.
Simulation and Indoor Games
Instruction in a variety of competitive fantasy simulation games, and relaxing standard board games including chess, checkers and backgammon is offered to interested campers.
History and Exploration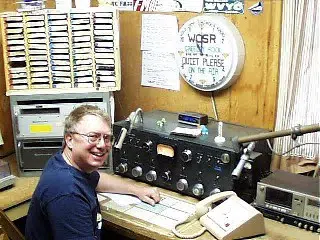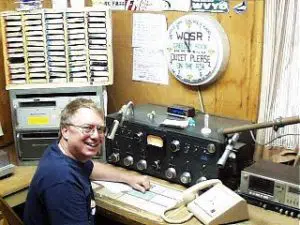 Camp Shohola and the Greeley area have a very interesting history. Every summer Tom Gibson leads interested campers to visit local technological and historical places of interest. We have visited three local gravity railroads, telephone companies, Pinchot Estates, the Sylvania Association and Greeley Lumber Company, area museums, and The D&H canal.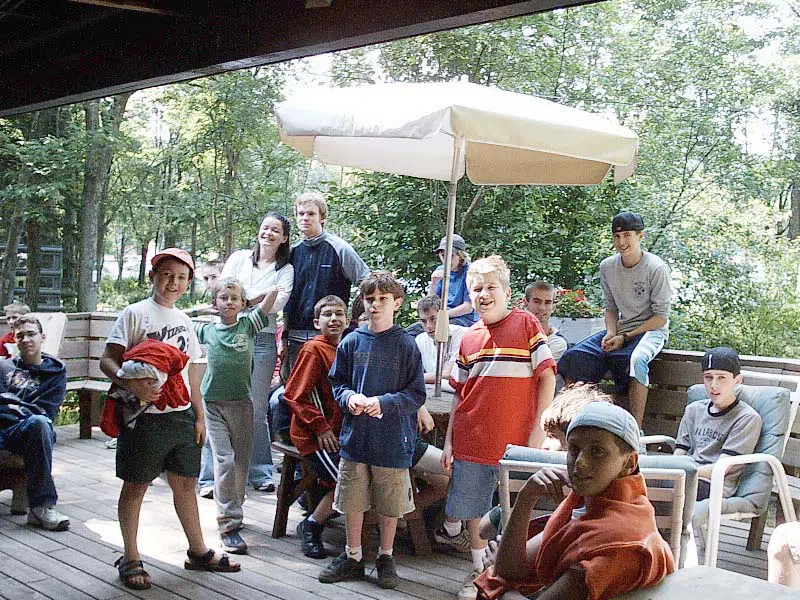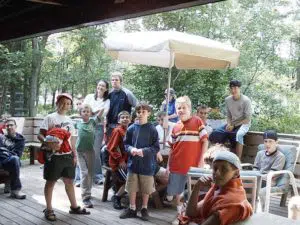 Professor Thomas Gibson, a fifty year veteran of Camp Shohola, is from York, PA. He has been teaching at York College of Pennsylvania for more than thirty five years and started the Camp Shohola Communications and Technology Program in 1966 with activities in Radio Broadcasting, Electronics and Amateur Radio. Last summer, (2006) there were 17 counselors from around the world teaching more than fifty activities in the CommTech building. The CommTech Center is an operating Broadcast and Telecommunications Museum.